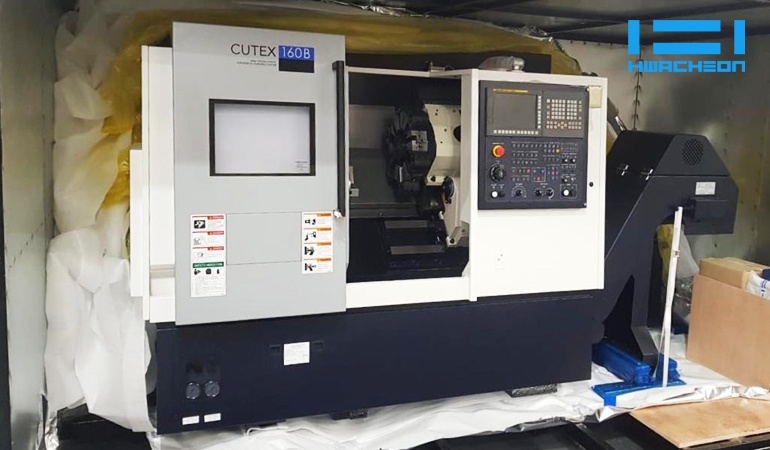 In July 2019 Lead Machine Tools received delivery of their first two Hwacheon Cutext 160B stock machines.
Hwacheon is the oldest Machine Tool manufacturer in South Korea and today have branches over the world. The company is also one of the leading manufacturers in terms of new technologies and quality products, bringing over 60 years of experience and groundbreaking expertise to their customers. The large range of Hwacheon products extends from the heavy machining of large parts to precision Die and Mold making. Customers worldwide value Hwacheon as a full-range supplier of lathes and machining centres.
6"-8" CHUCK HORIZONTAL TURNING CENTER
High Performance For Production Application
The fast turret indexing time of 0.15 s/step and 36 m/min feed rate minimize the down time between each cut, the high-power chuck clamp guarantees precision turning every time, providing superb performance for any production application.
The pinnacle of Hwacheon technology, CUTEX-160 quickly became the industry standard in small-size turning centers when it was introduced . With its compact design, rigid construction, and a wide range of options such as bar feeder and parts catcher, CUTEX-160 will be a perfect solution for all your production requirements. The machine incorporates L-HTLD, the Hwacheon Lathe Tool Load Detection system, which monitors the tool load in real time to protect your valuable assets and to provide consistent, quality results.
User  Friendly Design, A Wide Range of Optional Features
CUTEX-160 horizontal center is designed to be user friendly, so you can concentrate on what you do best: creating quality products-without losing your valuable time to the worries of machine failure and safety. A wide variety of performance upgrade options are available for faster, more precise machining.
Specifications
Swing Over Bed: Ø550mm
Max. Cutting Diameter: Ø300mm
Max. Cutting Length: 300mm
Chuck Size (A/B): 152/203mm
Max. Spindle Speed: 6000/4500rpm
Bar capacity (A/B): Ø56/62mm
Spindle Motor Power: 11/7.5kW
Tool Storage Capacity Amount: 12